Indiana wedding DJ is a corporation that provides you with professional wedding DJs that will make your wedding live to be remembered. These professionals will provide you with good DJ services that will make your guests stay throughout the wedding session entertained to the fullest. These are the only DJs that will bring the house down because they show you in advance the collection of the music that they are going to play at your wedding party. They will even go to the extent of providing the client with a CD of his choice of songs that he/she desires to be played during the wedding party.
These DJ from Braggadoccio Productions has the ability to provide high quality services. This is because they hold skills and experience from different events where they have been hired to provide DJ services. They hold their experience from birth day parties, corporate functions and previous wedding functions. Therefore by hiring Braggadoccio Productions for providing wedding DJ services, you will definitely have a perfect wedding event that will live to be in the mind and hearts of your guest and visitors. The DJs have a clean selection of music tracks that is in accordance with the wishes of the client in order to bring satisfaction in your wedding event.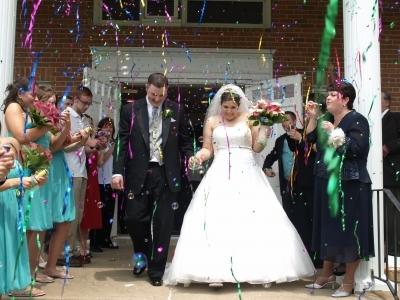 Indiana wedding DJ from Braggadoccio Productions has all that is required in order to spice up your event. They have professional DJs who have the ability to use, manipulate and add LED lighting to make your event a success which will definitely remain the talk of many people. In addition to this it is only in Braggadoccio Productions that you will find big screen music videos which can be incorporated into your event if you choose to. The mission of Braggadoccio Productions is to turn your wedding event into the next big event.  This will be made possible due to the entertainment facility that will be incorporated at your wedding event if you happen to hire DJ services from this production.
If you are therefore intending to host a wedding party makes no mistake to hire a DJ that will not deliver up to your expectation. Turn to Braggadoccio Productions where you will find DJs who have undergone full training in the industry of music. These are the DJs who are known to bring your wedding event back to life where your guest will be kept entertained to the level where they will lose track of time. The enjoyment that comes along with these DJ services is an epic that will live to be remembered because these are professionals who understands how things are supposed to be done in an event.
To ensure that things are successful in your event Braggadoccio Productions add fresh music to their list. This will ensure that your event has most current music tracks being played and the most popular music being played. So to make sure that your wedding event is the next big thing event turn to Indiana wedding DJ who will satisfy your wishes at affordable price and cost.