Finding a wedding photographer is among the most important aspects of organizing a wedding. All couples want to capture the events of the day through perfect photos so that they can remember the occasion through pictures. This is why it is vital to ensure that you get the best photographer for your special day. Keep in mind that the wedding day only occurs once, therefore an inexperienced photographer may ruin the chance of you making those precious moments last for a lifetime. Below are steps you can take to ensure that the events of one of the most important days of your life last forever.
Hire A Professional And Experienced Photographer
The first thing you should do before beginning the search for a photographer is to dentine your budget. In this way, you it will be easy to find a photographer you can afford. Photographers charge differently depending on their level of expertise, so it is easy to find one whom you can afford without leaving holes in your pocket. A general rule of thumb when it comes to wedding photography expenses is not go for a photographer who costs more than 10% of your total wedding expenses.
Photographers can be found in your local directory or on the internet. Take the time to do proper research and choose one who has been in the business for a while. A professional photographer has mastered the art of taking photos and is able to bring out the best of any event. There are many factors that constitute a great photo and only an experienced photographer can be able to cover all of them.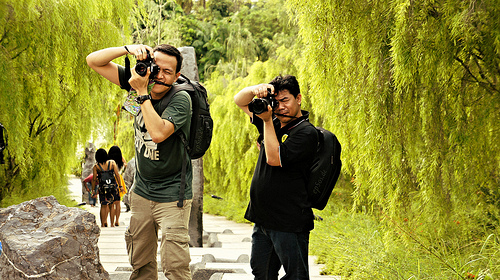 The best way to find a talented photographer is by seeking referrals. Statistics show that 70% of photography business comes from recommendations by former satisfied clients. Referrals are the safest guarantee of finding a professional photographer because a person only recommends someone when they were happy with the work done.
You should meet up with a photographer before hiring him. Take a look at his portfolio and find out the type of camera that will be used during your event. In this way you can get a better picture of how the photographer works and what to expect from him. By meeting with several professionals, you will be able to find the most suited photographer for you.
Meet With The Photographer Before The Wedding
Meeting up with your photographer before the wedding day is crucial if you want the very best photos taken. The ideal place for the meeting should be at the venue of the wedding. During the meeting, you should discuss in full length the schedule of the day so that the photographer will be ready to take pictures of all the important moments. You can also give the photographer a complete list of names for family members who have to be photographed. This meeting is important as it allows the photographer to find vantage points and attractive backgrounds that will yield stunning photos.
Finally the bride, groom, and all guests should be well rested to ensure good photos. A tired and haggard look results in bad photographs regardless of how good the cameraman is.
This post was authored by Adah Williams. Adah is a contributing writer for http://www.jonathon.co/ and she loves to share useful wedding planning tips with others.