Making a decision on your wedding entertainment can be difficult. Whilst part of your decision is based on personal taste, you also need to give some thought to the diverse audience at your wedding reception. Although it's great to inject your own personality and taste into your wedding day, if you play your favorite genre of music all night long, this will leave many of your guests sitting in the side-lines feeling bored or awkward. The two main choices are a live band or a wedding DJ.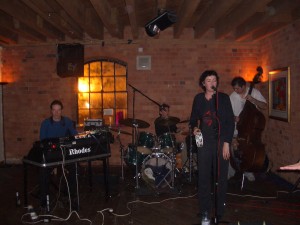 The pros of a wedding band
Many people opt for a live band at their wedding reception. Live bands add more to the atmosphere and offer your guests a taste of something different. Live bands tend to interact more with your guests, with the ability to sing certain songs on request. The presence of a band can really add something special to your evening.
Wedding bands are generally experienced in what they do and understand how to keep your guests entertained. They will stick to tradition, having special songs for the bride and groom and bride and her father. They will also make your night incredibly memorable.
The downsides of hiring a wedding band
Wedding bands are most costly than a DJ because you are paying for a number of people to be involved. There is also a lot of equipment on stage which provides a lot of room for error and things going wrong. Wedding bands may also be limited on what requests they can take because any requests depend upon the entire band knowing how to play the song. You may also find that some wedding bands only appeal to a small portion of your wedding guests. If the band plays one distinct genre, there will be less variety and some guests may become bored.
The pros of a wedding DJ
The biggest pro of a wedding DJ is the price. Wedding DJs tend to be far cheaper than hiring out a live band. A good DJ should be just as good at entertaining and interacting with a crowd as a live band could be. DJ's have huge libraries of music which allow them to play virtually any song on request. With a band you're dealing with several people so there is more room for problems with equipment. However, with a DJ you are only relying on one person and one set of equipment, making it less likely that problems will occur.
The downsides of hiring a wedding DJ
With a wedding DJ, you are only dealing with one person. Therefore, if that person suddenly becomes ill or unable to make the event, there is no replacement. You may also find that if there are any disagreements with the DJ, you will be without entertainment. Choosing the wrong DJ has the potential to result in a DJ who just goes through the motions and puts on a playlist. Be sure to chat to your DJ about your preferences and ensure that they are enthusiastic about your event.
Author – Lola Taylor is a wedding planner. People often ask her for advice about their big day, and she recommends vibetown.co.uk.